Cheap flights from Baltics to DUBAI for €229 by AirBaltic
Cheap flights from the Baltics to Dubai, the United Arab Emirates from €229 round-trip by AirBaltic! Find the cheapest flights from the Baltics to UAE and book your ticket at the best price! Flights will cost from €229 both ways.
The United Arab Emirates, a country in the Arabian Peninsula on the Persian Gulf, is famous for its futuristic high-rise buildings, world-famous beach resorts, palm-shaped man-made islands, desert safaris, huge and luxurious shopping malls… However, that is not all the country has to offer. Check out the article about 7 Best Places to Visit in United Arab Emirates
Dubai, UAE
Dubai is one of the seven emirates that make up the United Arab Emirates (UAE). It is located on the southeast coast of the Arabian Peninsula and is known for its modern architecture, luxury shopping, and vibrant nightlife. Here are some key points about Dubai:
Modern City: Dubai is often referred to as a global city and a major business hub in the Middle East. The city has experienced rapid growth and development in recent decades, transforming from a small fishing village into a modern metropolis.
Iconic Landmarks: Dubai is home to many iconic landmarks, including the Burj Khalifa, the tallest building in the world, standing at over 828 meters (2,717 feet) tall. Other famous landmarks include the Palm Jumeirah, an artificial archipelago, and the Burj Al Arab, a luxury hotel shaped like a sailboat.
Shopping and Entertainment: Dubai is known for its extravagant shopping malls, such as the Dubai Mall and the Mall of the Emirates, which offer a wide range of retail and entertainment options. Additionally, the city hosts various events and festivals, attracting visitors from around the world.
Culture and Heritage: Despite its modernity, Dubai also values its cultural heritage. Visitors can explore traditional souks (markets) like the Gold Souk and the Spice Souk, where they can experience the city's rich heritage.
Tourism: Dubai is a major tourist destination, attracting millions of visitors each year. Tourists come for its luxurious resorts, desert safaris, water parks, and various entertainment activities.
Business and Economy: Dubai's economy is diversified, with significant contributions from various sectors such as finance, real estate, tourism, and trade. The city has positioned itself as a major business and investment center in the region.
Climate: Dubai has a hot desert climate, with scorching summers and mild winters. Summer temperatures can often exceed 40°C (104°F), while winter temperatures are more comfortable, ranging from 15°C to 30°C (59°F to 86°F).
Multicultural Population: Dubai is home to a diverse population, with a large expatriate community from different parts of the world. English is widely spoken and used in business and tourism, along with Arabic, the official language of the UAE.
Islamic Laws and Customs: Dubai, being a part of the UAE, follows Islamic laws and customs. While the city is open to tourists and visitors of all backgrounds, it's essential to respect local traditions and adhere to their cultural norms.
Dubai's unique blend of modernity, luxury, and cultural heritage makes it an intriguing destination for travelers and investors alike. However, as with any travel destination, it's essential to be aware of local customs and regulations to ensure a respectful and enjoyable experience.
Travel dates:
September 2023
Routes and some examples:
Riga – Dubai – Riga (229 EUR, NON-STOP flights)
2 – 9 Sep
7 – 14 Sep
11 – 18 Sep
16 – 23 Sep
21 – 28 Sep
23 – 30 Sep
Vilnius – Dubai – Vilnius (248 EUR)
3 – 11 Sep
6 – 14 Sep
15 – 23 Sep
17 – 25 Sep
22 – 30 Sep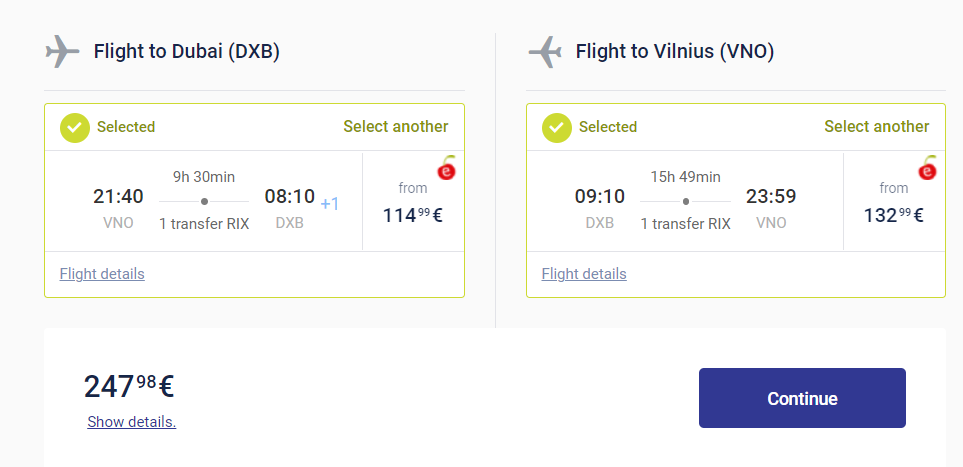 Tallinn – Dubai – Tallinn (248 EUR)
3 – 9 Sep
8 – 16 Sep
13 – 21 Sep
15 – 23 Sep
20 – 28 Sep
22 – 30 Sep
Where to buy?
Visit AIR BALTIC
Baggage policy:
Hand baggage (55 x 40 x 23 cm) included + personal item
!! IMPORTANT !! We have created a Facebook group to get only the hottest travel deals and error fares. Join now! After that, you are welcome to discuss topics about travelling! 
Do not miss the next TRAVEL DEAL! NAUJIENLAIŠKIS and get exclusive travel offers to your email box.
Accommodation:
Agoda is transforming travel for millions of customers across the globe. Part of Booking Holdings, Agoda is one of the world's largest online travel accommodation platforms with a network of over 2,000,000 vacation rentals and hotels worldwide.
Cancelled or delayed flight?
If your flight is cancelled or delayed by 3+ hours, you may get a refund of up to €600. Check it out at SkyCop.
Tours and excursions:
Do not have time to think about accommodation and tours, but have you heard about Tourradar? Multi-day tours to every part of the world, for example, Safaris, Treks, Coach trips, Cruises, White Water Rafting, Mountain Biking, Sailing, Kayaking, Overland Trips and many more.
Have a look at Trip Advisor as well when planning your holiday to find out what's hot and what's not when it comes to all the local attractions.
Car rental:
You can find the best car rental prices at AutoEurope.com.
For over 60 years, Auto Europe has been a leader in worldwide car rental services and helped over 10 million travellers find the best options when travelling abroad. Through long-term relationships with top suppliers, for example, Hertz, Avis, Enterprise, Europcar, National, Budget, Dollar, Buchbinder and Peugeot AutoEurope offer travellers the best rates at 20,000 pickup locations in over 180 countries worldwide.
Insurance:
Worldwide travel medical insurance for Nomads. Only from $37 / 4 weeks worldwide, affordable travel medical insurance for anyone, especially for long-term travellers and digital nomads.
Save money with a Free Debit card:
Free Debit card by Revolut, N26, Monese or Transferwise, etc. with no fees? Sounds too good to be true, but believe it or not, this exists already for years. This should help protect your pocket. All these cards are great choices for international travellers, get your FREE card: https://travelfree.info/best-free-debit-cards-for-travellers/
CURVE
. Manage all of your bank accounts from one smart card using an app.
 M

ake your first transaction, after that y

ou can enjoy £5 absolutely free with the Curve discount when 
you 
sign up to Curve. Do not miss a great opportunity!
Delivery
Wolt – is an online food ordering and delivery service that takes orders via a mobile app. It was founded in 2014 in Helsinki. Wolt allows any restaurant to sign up as a merchant, mediating the order from the customer, taking care of the delivery and automatic payment by credit card. Get a 15 EUR free coupon for the sign-up.
Learn new skills