HIT! FULL SERVICE flights from Zurich to Jakarta, Indonesia from €381 by ETIHAD
Cheap flights from Zurich to Jakarta, INDONESIA from €381 round-trip by Eithad Airways! Find cheap flights to Jakarta from Switzerland and book your ticket at the best price! Flights will cost only from €381 return.
INDONESIA – Everyone knows Bali. It's a beautiful island, which has lately become one of the top holiday destinations in the world. But there's more to Indonesia than just Bali. In fact, there are 127 active volcanoes in Indonesia, and the whole country is made up of thousands of volcanic islands! No wonder Indonesia is called The Volcano Nation. Read on to find out what are the best places to visit in Indonesia!
Jakarta, Indonesia
Jakarta is the capital city of Indonesia and is located on the northwest coast of the island of Java. It is the largest city in Indonesia and one of the most populous cities in the world. Here are some key facts about Jakarta:
Population: As of my knowledge cutoff in September 2021, the population of Jakarta was around 10 million people. However, please note that population figures may have changed since then.
Geography: Jakarta is situated on the northwest coast of Java, at the mouth of the Ciliwung River. The city covers an area of approximately 661 square kilometers (255 square miles) and is located in the Jakarta Special Capital Region (DKI Jakarta).
Cultural Diversity: Jakarta is a diverse city with people from various ethnic, cultural, and religious backgrounds. The majority of the population is Muslim, but there are also significant Christian, Buddhist, and Hindu communities. The city's multicultural nature is reflected in its cuisine, festivals, and religious landmarks.
Economy: Jakarta is the economic and financial hub of Indonesia. The city is home to the country's stock exchange, numerous multinational corporations, and a variety of industries, including finance, banking, trading, manufacturing, and services. Jakarta plays a crucial role in Indonesia's economy and contributes significantly to the country's GDP.
Transportation: Jakarta faces significant traffic congestion due to its large population and rapid urbanization. The city has a well-developed transportation system, including buses, trains, and taxis. Additionally, Jakarta is known for its motorbike taxis called "ojeks" and app-based ride-hailing services like Grab and Gojek.
Landmarks and Attractions: Jakarta offers a range of cultural, historical, and recreational attractions. Some notable landmarks include the National Monument (Monas), Istiqlal Mosque, Jakarta Cathedral, the Old Town (Kota Tua), Taman Mini Indonesia Indah, and Ragunan Zoo. The city also has modern shopping malls, restaurants, and entertainment venues.
Climate: Jakarta has a tropical monsoon climate characterized by high temperatures and high humidity throughout the year. The city experiences two distinct seasons: the wet season from October to April, with heavy rainfall, and the dry season from May to September.
Route:
Zurich – Jakarta – Zurich
Travel dates:
September 2023 – May 2024
Some examples:
16 Nov – 6 Dec (384 EUR)
14 – 29 Jan (381 EUR)
21 Jan – 5 Feb (381 EUR)
28 Jan – 12 Feb (381 EUR)
6 – 23 Mar (403 EUR)
16 – 30 Apr (382 EUR)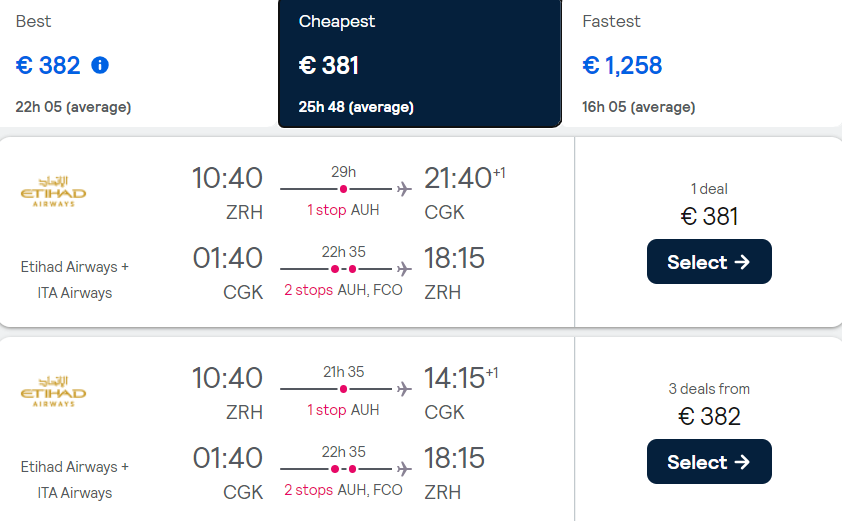 Where to book:
Visit SKYSCANNER
Baggage policy:
Checked baggage + hand baggage + meals are included!
!! IMPORTANT !! We have created a Facebook group to get only the hottest travel deals and error fares. Join now! After that, you are welcome to discuss topics about travelling! 
Do not miss the next TRAVEL DEAL! NAUJIENLAIŠKIS and get exclusive travel offers to your email box.
Accommodation:
Agoda is transforming travel for millions of customers across the globe. Part of Booking Holdings, Agoda is one of the world's largest online travel accommodation platforms with a network of over 2,000,000 vacation rentals and hotels worldwide.
Cancelled or delayed flight?
If your flight is cancelled or delayed by 3+ hours, you may get a refund of up to €600. Check it out at SkyCop.
Tours and excursions:
Do not have time to think about accommodation and tours, but have you heard about Tourradar? Multi-day tours to every part of the world, for example, Safaris, Treks, Coach trips, Cruises, White Water Rafting, Mountain Biking, Sailing, Kayaking, Overland Trips and many more.
Have a look at Trip Advisor as well when planning your holiday to find out what's hot and what's not when it comes to all the local attractions.
Car rental:
You can find the best car rental prices at AutoEurope.com.
For over 60 years, Auto Europe has been a leader in worldwide car rental services and helped over 10 million travellers find the best options when travelling abroad. Through long-term relationships with top suppliers, for example, Hertz, Avis, Enterprise, Europcar, National, Budget, Dollar, Buchbinder and Peugeot AutoEurope offer travellers the best rates at 20,000 pickup locations in over 180 countries worldwide.
Insurance:
Worldwide travel medical insurance for Nomads. Only from $37 / 4 weeks worldwide, affordable travel medical insurance for anyone, especially for long-term travellers and digital nomads.
Save money with a Free Debit card:
Free Debit card by Revolut, N26, Monese or Transferwise, etc. with no fees? Sounds too good to be true, but believe it or not, this exists already for years. This should help protect your pocket. All these cards are great choices for international travellers, get your FREE card: https://travelfree.info/best-free-debit-cards-for-travellers/
CURVE
. Manage all of your bank accounts from one smart card using an app.
 M

ake your first transaction, after that y

ou can enjoy £5 absolutely free with the Curve discount when 
you 
sign up to Curve. Do not miss a great opportunity!
Delivery
Wolt – is an online food ordering and delivery service that takes orders via a mobile app. It was founded in 2014 in Helsinki. Wolt allows any restaurant to sign up as a merchant, mediating the order from the customer, taking care of the delivery and automatic payment by credit card. Get a 15 EUR free coupon for the sign-up.
Learn new skills
Skillshare is an online learning community with thousands of classes for creative and curious people, on topics, for example, Design, Business, Photography, Tech, and More. It's an online, subscription-based e-learning community platform. Get SkillShare Free Premium Membership for 2 months.